"Was that a Hallowe'en costume or a social experiment?" a psychology classmate recently asked me.
"Both," I replied with a wild grin.
Thus ended another adventure of TV HeAD, channeling the path of resistance!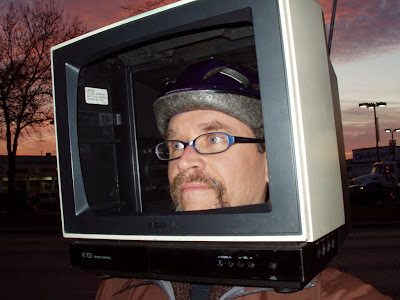 It all started last year in Victoria. I've always enjoyed and appreciated how dressing up in costume at Hallowe'en allowed your Jungian Shadow to have a little prime time. I haven't always created political/social commentary costumes. Mostly I aimed for weird, funny, and beautiful garbs. But one year I became an Orca who was "oFINded by all the fricken' whale watching boats following me around!" I'd say with a crazy laugh, "You're bringing the Killa Whale outta me!" Then another year I admired the mad fast-food server dotting a meat cleaver. She was completed with a blood bespattered MacDonald's uniform. Since subversion is one of my Shadow faces, Hallowe'en has become an opportunity to turn on TV HeAD and turn off the world....
read more (1,242 words)